Hello Readers!
I know. It seems like a long time since you've heard from me.
Since I am hard at work on my book, I feel like I'm "talking" to you every day. I do miss our regular chats, but until recently, there really weren't any new developments happening regarding Daniel Wozniak or his case.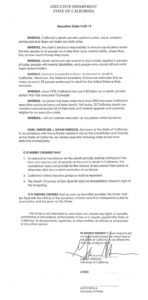 However, the brand new governor of my home state of California made an executive order recently, and I knew it called for a blog post.
On March 12, 2019, Governor Gavin Newsom told the world that for the duration of his term in office (four or eight years), California would not execute any of its death row inmates.
Dramatically emphasizing his point, Newsom had the San Quentin execution chamber disassembled… essentially.
Technically, the most recent method used to execute prisoners at San Quentin was lethal injection. There also still existed the necessary equipment to complete a gas chamber execution. Newsom made sure neither would be possible.
Uniformed officers were photographed carrying a gurney table, with the arm restraints protruding from the sides, out of the prison. Looking at the picture reminded me of the execution scene in Dead Man Walking where Sean Penn is restrained to the table and they stand the table up so he can face the witnesses. He says his last words positioned as a man about to be crucified.
San Quentin's table was loaded onto a truck next to a couple of intimidating apple-green steel chairs (with restraints for arms, legs and head) that had been removed from the still-functioning gas chamber.
Was Gavin Newsom worried if he left the table and chairs, employees of SQ would suddenly start executing prisoners willy-nilly for the first time since 2006?
Whether you support the decision or not, it's obvious this was a dramatic political move to show Newsom means business.
I have a friend on death row, but I've never believed Daniel would be put to death by the state of California. I've always viewed his sentence as being more like "life without the possibility of parole." There were already over 700 people on death row before Daniel Wozniak even arrived at San Quentin, and there hadn't been an execution in nearly ten years.
I don't envision Daniel being a free man again.
However, I honestly figured the voters of California would eventually get rid of the death penalty. Long before Daniel's appeals would be exhausted, I just assumed all death row prisoners would have their sentences commuted to LWOP (life without the possibility of parole).
In 2016, while Daniel was still in the Orange County jail awaiting his fate, voters had the opportunity to abolish the death penalty through Proposition 62.
Fifty three percent of the Californians who voted chose to keep it. In fact, another proposition on the same ballot (Prop 66), with the intended purpose of speeding up the execution process, won by around fifty-one percent.
I voted the opposite on both propositions. I'm against the death penalty.
But. I didn't lose a loved one to murder.
Daniel is on death row because he was found guilty of murdering two innocent people.  A jury decided Daniel should pay for the lives of Sam Herr and Julie Kibuishi with his own life.
I was in the courtroom when the decision was handed down. I saw the reactions of the Herr and Kibuishi families upon finally learning the fate of the man who was responsible for all their pain and loss.
Above all, they looked relieved, I think. It had taken six years, but they finally knew Daniel Wozniak was facing the justice they wanted.
When I heard about Gov. Newsom's announcement, I immediately thought about how upsetting this might be for Sam's and Julie's loved ones. A quick search revealed a story on CBS where Steve Herr shared his feelings about the Governor's decision:
The governor "was going against the will of the people." Herr said the news was "very upsetting… We're obviously disappointed, highly upset." Herr acknowledged that it was unlikely he would ever see Wozniak executed anyway, but it was comfort to him and his family knowing the killer was on death row.

"I'd like to hear (Newsom) explain to me and the victims why he thinks the death penalty is not the appropriate consequence" in Wozniak's case. "He's going to have to deal with the victims' families. He has no idea how we feel. None whatsoever." — from the CBS article
The Governor's decision came as a surprise to many people, and I wanted to talk to Daniel about it. I wanted to know what happens next for him. I wanted to know how the people on the row were taking this presumably good news.
It turns out the reactions are mixed.
Most inmates are also wondering what will happen next. The timing of this isn't lost on them; Proposition 66 was supposed to go into effect next month. Now, they are guaranteed there won't be any executions for at least four years.
This comes as a welcome relief to some men. Daniel told me how an older inmate I'd met during one of my visits was on the "hotlist" of the twenty inmates who were first in line to be executed when / if California started up the process again. Daniel doesn't know anything about this man's crime; he doesn't want to. The human being he knows has hope again and a new appreciation for life, and for Daniel, that was a nice thing to see.
Some inmates are jumping the gun a bit by attempting to taunt the guards with clever jabs such as, "Ha ha ha, we're not on death row anymore."
Seriously what kind of frickin' idiot tries acting superior to a person who is gainfully employed and gets to go home every night because they aren't locked up for doing something atrocious?!
Dude, you are in the exact same place you were yesterday!
Daniel told me not all the inmates on death row are thrilled with this new situation. There are men who are miserably unhappy and actually "just want to die and get it all over with."
Overall, though, there's a consensus with most DR inmates.  They all know there are some innocent people among them. San Quentin has put people to death for crimes they didn't commit. That is the main reason Newsom's moratorium on executions is seen as a positive step toward possibly abolishing the death penalty completely.
It's likely Gavin Newsom's main goal is to bring the choice back to the California voters in the 2020 election. The winning margins on Props 66 and 62 were small; it's possible the wave could shift. Some voters might see no point in continuing to fund a death row that won't be putting anyone to death. In 2018, the Catholic Pope even spoke out for the first time against the death penalty. Who knows how many votes that could change?
For now, life for death row inmates hasn't changed. Daniel and I were talking on the phone when he received some mail from the prison. Included was a copy of Newsom's proclamation and another paper basically telling the prisoners "For now – business as usual."
Death row inmates spend the majority of their time in a cell and they are never transferred anywhere without being handcuffed. They spend yard time individually locked in even smaller cells. Same old same old.
Still, it's probably nice knowing the table and chairs are gone.