In California, a lot more effort is required to visit a prisoner who is on death row versus visiting someone in a county jail.
When Daniel Wozniak was in the Orange County Jail, there were rules and regulations that had to be followed to visit. Daniel had to put me on his "visitors list." During the visit, I needed to put my possessions in a locker, go through a basic metal detector, etc. My visits with Daniel at County were non-contact visits, but the contact-visit people went through the exact same process I did.
Getting Into San Quentin (Without Committing A Crime)
San Quentin State Prison is a completely different animal. Just north of San Francisco, San Quentin is the oldest prison in California (opened in 1852), and it's the only one to house a death row for men.  Prison is much more intimidating than jail, and there are so many steps necessary to visit an inmate.
Long before I could actually visit Daniel at his new home, I had to be approved by the prison. The inmate needs to request a visiting form, and then he mails it to the visitor. Daniel sent me the form, I filled it out, and mailed it to the sergeant in charge of visiting. After about a month (the normal waiting period), Daniel was informed I'd gotten the A-OK, and it was his job to pass that information on to me.
Once a visitor is approved, an appointment needs to be made. In the OC Jail, visits were granted on a first come, first served basis. On visiting days, an inmate was allowed only one visiting session a day. I often saw people being turned away by the deputies because someone else had beaten them to the punch.
There was no fear of that happening at San Quentin. I needed to make an appointment. Normally appointments are done by telephone, with assigned days and times to call and reserve for the upcoming weekend. However, since I live in Orange County, which is a six to eight-hour drive from San Quentin, I wanted to set up an appointment farther in advance.
For that, the visitor can make a visiting request by mail, if it is done at least one month ahead. Include a self-addressed stamped envelope if you'd like a direct reply, otherwise the sergeant will inform the inmate that an appointment has been scheduled.
I first learned about San Quentin being on lockdown a couple of weeks ago because I was added to a visitor's mailing list when my request was accepted.
I was approved for extended visits on both days I'd requested. I was scheduled from 9 am – 2 pm, on Feb 10th and 11th.
I booked a hotel in the city of San Rafael, which is about five miles from San Quentin State Prison. No surprise – the hotel did not list San Quentin  in the local attractions section on its website. "We have a pool, a weight room, and we're just a hop, skip and a jump from California's death row."  Conveniently, I have some very close friends who live in the San Francisco area, so I made plans for my non-death row time as well.
The Rules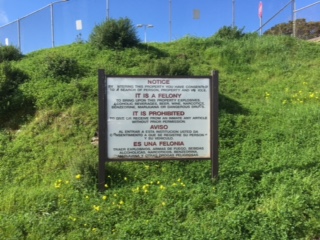 Before I could pack my suitcase, I needed to learn a completely different set of rules from the ones for visitors to county jail. The restrictions on clothing were much more stringent. This is from the CDCR's 28-page guide booklet for visitors:
At least the restrictions about color were limited to clothing and not hair, because I was sporting an array of all the Barbie furniture hues at that time. Phew!
Practice Run
For this first visit, I decided to drive from Orange County instead of flying. I wanted to have control over as much as possible. I might not be allowed to wear chambray blue or shower shoes, but I can make sure I don't have to deal with a cancelled flight or lost luggage, and I wouldn't have to worry about getting a cab or an Uber to get me to the prison on time.
Obviously, I had some concerns that I would somehow, some way, mess things up. I didn't want to be denied the visit after all this preparation. I was also really looking forward to seeing Daniel again, and I know he felt the same way about seeing me. This was going to be our first unrecorded conversation.
I figured I'd drive up a day early so I could do a practice run and make sure I would be able to find San Quentin  from my hotel. Anyone who knows me would not put it past me to get lost, even though the prison was less than six miles away. Daniel told me his mom got all twisted around when she'd visited him the first time. He couldn't understand how that was possible, since the prison, which occupies 275 acres on Point San Quentin, juts right out into North San Francisco Bay. "How can you miss the place?" he asked me on the telephone.
I'll tell you how.
Your car's navigation system just drops you onto a little tree lined road and says, "You've arrived at your destination."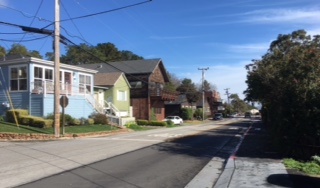 There were little blue and yellow and white beach cottages along the road and I was reminded of trips to Catalina Island.  I was not at my destination. I couldn't even see the prison from that spot.
At least I knew to head towards the water. I started to see the prison peeking through the trees, but I had no idea how to get to it, and find its "front door."
I ended up on E. Sir Frances Drake Blvd, where I, too, felt like I was attempting to circumnavigate a large land mass. I finally found a small road that went downhill into the prison. Admittedly, I was pretty sure this wasn't the main entrance, but at that point it was the only entrance I could see.
The guard, who stood in front of a guard shack to my right, opened the gate for me. I couldn't exactly tell if he wanted me to stop or not, but I figured I'd better ere on the side of safety. I needed directions anyway, so I rolled down my passenger side window and asked if this was the correct entrance for visiting.
"Who are you visiting?" He wasn't hiding his irritation.
"A prisoner. A death row prisoner. Umm, not today though. Tomorrow. Today I'm doing a practice run, so I know where to go tomorrow. Is this where I go?"
"No. You need to turn your car around."
I pointed to an open area just inside the gate. "Can I just pull in there and flip around?" My car is not small and I am not tall. At this point, there were other vehicles lined up behind me, including a UPS truck.
"No."
"OK. Sorry." I proceeded to do a fifteen-point turn to get my car heading back to Frances Drake.
I ended up driving kind of alongside the prison looking for another entrance road. Somehow, I ended up missing the surprisingly small sign marking the turn I needed to take.
That's when I got stuck driving across the Richmond-San Rafael Bridge. The sky was clear and blue. It had rained the day before, but now the sun was out. It was a lovely scenic view… That's what I told myself to keep from feeling like an idiot.
It wasn't until I headed back across the bridge that I finally got a full view of the prison in all its glory. The place is huge and menacing. Photographs don't do it justice. I can't imagine being driven through its gates and knowing it would be your home for the rest of your life.
When I got back on the prison side of the bridge, the sign to turn was more clearly marked (or I knew to where to look this time).
I drove slowly through this residential area for a couple of blocks. I knew the property around there had to be super expensive. Waterfront views in the San Francisco area to not go cheap. A small three-bedroom house can easily fetch over a million dollars according to local real estate websites.
I finally got to the very end of the cul-de-sac, and there was the prison, The largest piece of real estate in the neighborhood. In 2009, there was even a proposal that the state should sell San Quentin and re-build the prison on property that didn't have an ocean view. That didn't happen.
This wasn't an official visiting day, but there were still a number of cars in the visitor parking lot. It was the first of three large lots, but the only one you could enter without going through a guarded and gated checkpoint first. The white wooden guard shack was weathered, but no less intimidating. I carefully drove down the steep narrow road entering the lot and parked my car.
Self-Guided Tour
I walked halfway back up the road and looked at the wooden building that had a small "visitor entrance" sign over the door, that was probably hung up in 1972, and not touched since. The place was grungy and deserted.  A puddle of water on the cement floor told me the roof probably leaked during the most recent storms. I didn't want to imagine an alternative scenario that would cause a floor puddle.
On the right side of the narrow interior was a wall of beat up blue metal lockers.  Who knew the visiting area at the Orange County Jail could look so clean and modern by comparison? County had plenty of plastic molded chairs for the waiting visitors. San Quentin had a couple of old benches.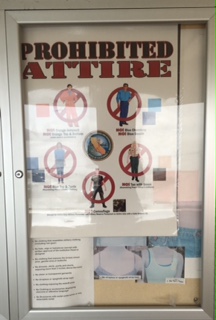 I spent some time looking around and snapping pictures of the numerous informational bulletins hung all over the wall. Many of the signs re-iterated the clothing and other visitor rules I'd seen online. If the guards deem your clothing to be unacceptable, you can borrow some used clothing they have available for such a circumstance. It reminded me of how my son's middle school has a similar policy when kids forget their PE clothes. The loaner PE clothes are pink.
There was a locked door heading into an office check point and metal detector. I figured I had the gist of the place, and I was glad I'd made this practice excursion. It made me feel less stressed about coming back the next morning.
Ye Olde Prison Gift Shoppe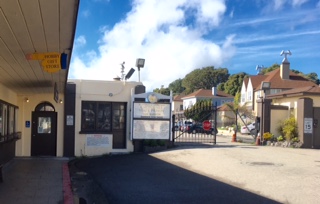 On my way out of the parking lot, I saw a small wooden sign shaped like a pointing hand hanging outside a building just in front of the main prison gates. It said "Hobby Gift Store."
I parked my car alongside the road next to a one-hour parking sign. I had to check it out. A San Quentin gift store was the kind of thing that would have grabbed my attention long before meeting Daniel.
Unfortunately, the store was closed, but I could see inside the front window. The store was a place to sell crafts and art work made by the inmates in classes. (Daniel later told me there is a long waiting list to get into those classes. They are very popular).
I took a couple more pictures before a guard came around from the gate and suspiciously asked me if I needed help. Once again, I explained that I was taking a test run for my visit the next day. I guess I could have said I'm a writer working on a book. That's true, too.
I decided it was time to get out of there for now.  I was going to be spending enough time around the place that weekend. I took a deep breath of fresh air and headed back to the hotel to get some writing done. Along the way, I stopped at the Redwood Café and got a grilled cheese sandwich and a café latte to go.